While introducing his main player, Specioza Nantaba in the 2017 song Specioza, Bobi Wine talks about this girl, Specioza, and all the things he felt for her, only to end up with  fractured emotions and probably ego.
Many could have been led to believe that Kamwokya Community as mentioned in the song was fictional, though it indeed exists – as a place that the current legislator for Kyadondo East and musician Robert Kyagulanyi alias Bobi Wine had failed to find favour in his youth.
Kamwokya Community as it was known was an orphanage run by Kamwokya Christian Caring Community, an NGO established in 1987 with the support of Irish missionary Sister Dr. Miriam Duggan, to help many of Kamwokya's orphans who had lost parents to HIV/AIDS or were living with the disease.
For the guardians of these children, a Kyagulanyi, rocking spiked hair, coming around the community to chat up one 'Specioza' or 'Carolina' as he would later sing about her was never a good gesture.
Some had tried to chase him with sticks or even stones but the always half-buttoned shirt Kyagulanyi would show up the next day. They would then resort to telling their daughters never to date boys like Kyagulanyi; young boys were simply asked to keep their hair neat and always button up.
Kamwokya
Kamwokya is a predominantly low-income neighbourhood located within Kampala city. It is bordered by affluent suburbs such as Bukoto, Kololo, Naguru and Nakasero.
Overlooked by the more affluent Kololo hill, Rose Muhirwe, a Kamwokya resident since she was ten years old, says the myth while growing up was that all the waste waters from Kololo used to end up in the slums of Kamwokya, Kifumbira and Kyebando. "As you see it now, that's the way it has always been, their houses on the hills and our humble homes in the valley," she says.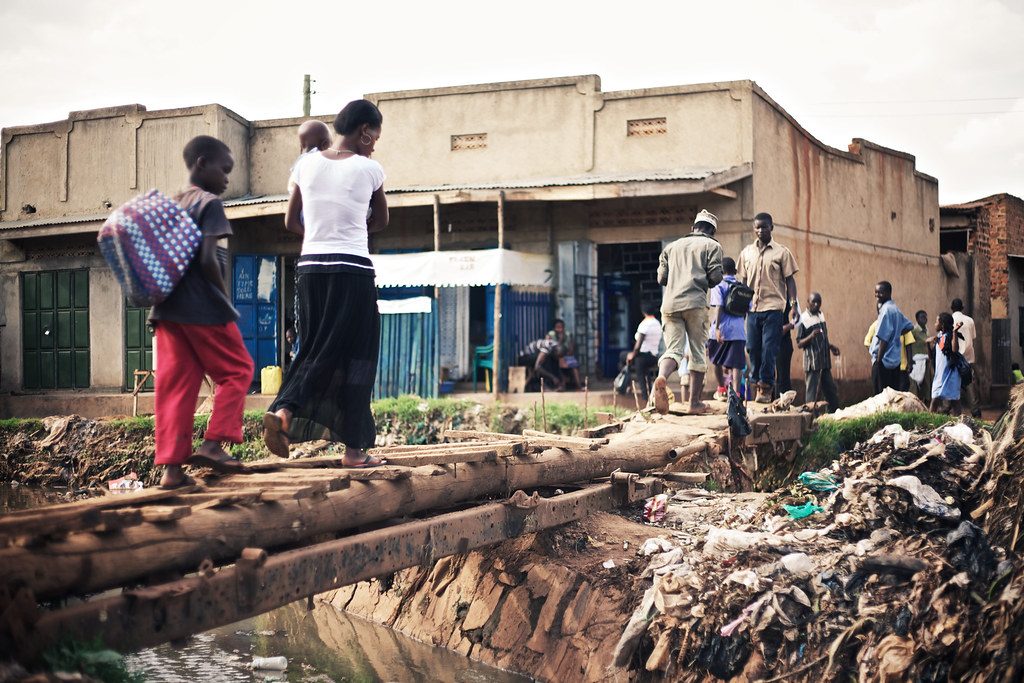 Kamwokya is home to one of the biggest slums in Kampala. A slum separated from its more affluent neighbour Kololo by a road that many children according to Muhirwe would cross to get a feeling of what it meant to walk by an affluent neighborhood.
In one of the interviews, Bobi Wine says that the Kamwokya surrounding was one that haunted him to seek success, in fact, in one of his songs Number One, he sings about walking on the same streets he now drives through.
"This is a new one for you…"
 My father said there's more politics
In the music industry than in the Parliament
Forgive them father,
They don't know who dem deal with, anyway!
We ah bad man, we don't fear intimidation
That's why we sit top of the nation
From Dangala Kamwokya where we come from
This is a new one for you…

Lyrics from Bobi Wine's 2012 single, 'By Far'
In 2017, when Bobi Wine toyed with the idea of joining active politics, a good number of East African artists had tried their hands at the vocation; for instance, Tanzanian rapper Joseph Haule alias Professor Jay had become a member of parliament for Mikumi Constituency in Morogoro two years prior.
But it was Joseph Mbilinyi, one of the founders of the Tanzanian rap scene commonly known as Mr. Sugu that had inspired Haule into politics. Mbilinyi had been in parliament since 2010 representing Mbeya City. It is not very surprising that the two ended up in the same opposition political party, Chadema.
In 2010, though, Bobi Wine was in Uganda doing showbiz and once in a while speaking about the aspirations and frustrations of his downtrodden ghetto through his music. But the local industry was getting political; artiste Eddy Kenzo had released an infectious song that was Stamina, and its dance moves had already captivated party goers and politicians alike.
It was then rumoured that the song had been commissioned to be used on incumbent president Yoweri Museveni's campaign rallies. Other artistes were pitched to join his campaigns to offer entertainment. But to salvage the growing rap scene that had produced such poets such as Ganda language rapper Ernest Nsimbi alias GNL Zamba, the president surprised many with a hip hop production of a Runyakitara traditional folklore Mpenkoni, more popularly known as Another Rap.
With the president using music to woo the youth and recruiting artistes to hype his crowds, Bobi Wine was on the fence. With the 2011 election fast approaching however, Bobi Wine would find his moment in the song Obululu, released in late 2010. Through the song he cautioned people to remain peaceful in an election that was already tense.
This would not be the first time Bobi Wine was using a national event to venture into social commentary. In 2005, as the country was gearing up for the 2007 Commonwealth Heads of Government Meeting (CHOGM), Bobi Wine had composed Ghetto, in which he addresses issues of a common person that politicians only consulted when they needed votes.
From Nchi Ya Kitu Kidogo to the Ghetto
Yet even prior to the emergence of Professor Jay and Bobi Wine, the East African music scene had been political for a while.
In 2001 for instance, artistes like Eric Wainana had already taken up activism, addressing social issues like corruption in Nairobi through songs like Nchi Ya Kitu Kidogo.
Ugandan singer Ronald Mayinja had in more than an incident poked the wrong side of the authorities with intriguing questions in songs such as Tuli Kubunkenke, released in 2005, that would be informally adopted as the campaign theme song for opposition leader Dr. Kizza Besigye in the 2006 presidential elections.
Even more lacerating was the follow-up song Africa, in which Mayinja provocatively asks for a buyer ready to purchase the country since it is on sale.
"The songs, especially Tuli Kubunkenke was used in the 2006 elections that some politicians thought I had been paid to do the song," Mayinja once noted.
Over the years, there was a continued sense of social justice activism through music.  In 2014 for instance, Ambasa Mandela, then front man for Kenyan act Sarabi Band and Eric Wainaina were arrested after they took part in anti-graft protests in Kenya. Both artistes were armed with their guitars and were passing on a message in the protests, using a song.
It was the wave.
In the same year in Uganda, Bobi Wine was decrying the corruption, tribalism and the increasing cost of living using his single Time Bomb.
True liberty begins ina your mindset
To free the ghetto people dem must educate
But education is expensive to get
It's like you see how we carry water in a basket…

Lyrics from Bobi Wine's single, 'Time Bomb'
As an artiste who had styled his career as a one filled with a lot of responsibility to the downtrodden, when he wasn't declaring himself a president of the underprivileged people of the ghettos, he was rallying fellow artistes to grow up and end the fights.
But the 'Ghetto President' tag had its baggage – marijuana. Bobi never shied away from the fact that he loved being intoxicated with grass, herbs, weed or kabanga as he used to call it.
Immaculate Zalwango, a resident of Magere on Gayaza road and part of Honourable Kyagulanyi's Kyadondo East constituency was living in Kamwokya from the 1990s until 2008.
The 66 year-old retired councillor talks about the times they looked at Bobi Wine with scorn because he seemed rowdy, "and there were those times he showed up with red eyes, we always believed he was intoxicated."
Bobi Wine then polished his image, Zalwango says, that even when many of them knew about his earlier troubles with drugs, after graduating at Makerere and later getting married, he became a model youth.
It was probably the refreshed image, despite his politicised music, that drew the attention of then police chief General Kale Kayihura. He adopted the musician as an ambassador for the Police's campaign to tackle drug abuse in Kampala.
Derrick Wandera, a Ugandan journalist, says that at the time Bobi Wine would move with the police promoting community policing and telling Ugandans why they shouldn't hate on the police.
Some of the songs he would do as part of this deal as police ambassador included a rendition of the Ugandan classic, Dipo Nazigala. However, unlike the late Ugandan singer Paulo Kafeero that sang about quitting alcohol, Bobi Wine talked about leaving drugs.
Music in the social media age
Social media platforms, especially Facebook and Twitter, have been popular among East African internet users for a long time, but it was only around 2010 that they took a hold, thanks in part to the reduced cost and improved speed of the internet.
Before 2010, many artistes did not have social media pages for themselves and even those that had took long to interact with their followers. However, soon they discovered the magic social media was and it became the new battle ground. It was a number's game for artistes while for the fans, it was a platform to connect with the like-minded.
Artistes obscure and those already famous had found a mouthpiece that wasn't the studio. On these platforms, they were able to defend themselves against an unfavourable rumour; but above it all, they could comment on things they thought were going wrong in the society in real time.
For socially conscious artistes this was yet another platform to showcase their independent mind. In Nigeria, 2Face Idibia (real name Innocent Ujah Idibia) would use social media platforms to announce political ambitions and in a short time, Charles Njagua alias Jaguar, a famous Nairobi-based singer announced his intentions to join Kenyan politics as well.
In Uganda, when the Kyadondo East parliamentary seat fell vacant at the end of 2016, Bobi Wine had refused to accept he was intending to stand for member of parliament but his social media activity easily gave him away.
More than once, he had shared pictures of himself visiting Ugandan opposition leader Kizza Besigye and other times in offices of people like the then spokesperson of the police or reading books by famous political figures.
Bobi Wine has made my week, playing wonderful tunes fm his guitar that I've never heard of. Thanks for yr defiance!! pic.twitter.com/gI2Rc4ivYp

— Kifefe Kizza-Besigye (@kizzabesigye1) March 8, 2016
With the history of his music and being one of the few artistes that had not starred in Tubonga Nawe, a campaign song done by a number of Ugandan musicians in support of incumbent president Yoweri Museveni in the lead up to the 2016 elections, it is believed he easily connected with the many disgruntled youthful voices on social media.
This wasn't of course unique to Bobi Wine.
Online fans had various times sided with artistes that spoke out on issues. When Sauti Sol released the critical song Tujiangalie, that asked Kenyans to reflect and question whether the country is as stable as it looks on top of skyscrapers in Nairobi, the Afropop band, previously famous for their love ballads, had crossed over into social commentary and with this move tapped into a new online constituency.
Sauti Sol – Tujiangalie ft Nyashinski. Sautisol have released a very political jam ft Nyashinski. Talks about corruption, our appetite for Chinese debts, tribal voting, the church and politics. Wasee wa twitter ndio ma-firstbody. Dope Song. Enjoy. https://t.co/SwswdJYkId

— Boniface Mwangi (@bonifacemwangi) August 22, 2018
Power to Art
By the time Bobi Wine entered parliament, two artistes Kato Lubwama, an actor and singer and Judith Babirye, a gospel music act had made it to the Ugandan parliament in the 2016 election.
But with the exception of Babirye, Kato could be dismissed like Mbilinyi; he went to parliament at the time his music career had for all intents and purposes tanked.
His had been the case of many artistes that joined politics before, they went to parliament when the public that listened to them barely remembered they still existed. "It is like many of them would go to the parliament to retire because music has stopped doing it for them," says Simon Mukisa, a resident of Gayaza in Wakiso district.
For Mukisa, the biggest thing about Bobi Wine's candidacy in 2017 was the fact that he was still relevant, in vogue, and was still performing. In fact, he had shows being advertised during the campaigns.
It is a trait Bobi Wine shares with Jaguar; both went into politics when they were still actively performing on the music scene.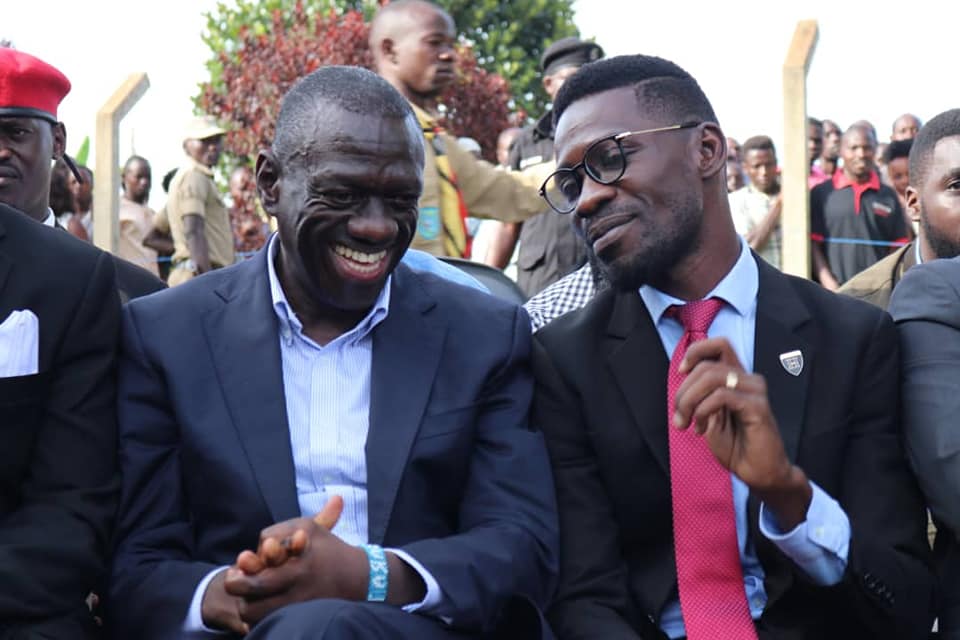 For Joel Isabirye, a media analyst, Bobi Wine's rise can be attributed to him being an artiste, and not necessarily what he was singing about.
"Bobi Wine's celebrity status drawn from his music career was a driving factor," he says, adding that the artiste built a wide social base because his music reached people even in remote areas and allowed them to develop a familiarity with his name and brand, aspects that career politicians often lack.
Taking the Ghetto to Parliament
In an interview following Bobi Wine's parliamentary seat victory, Eddy Yawe, Bobi's elder brother noted that after singing about things and nothing changed "[Bobi Wine] decided to take the ghetto to the parliament." Mr. Yawe, like Bobi Wine, is also a musician and has had unsuccessful bids for a parliamentary seat in Kampala twice, in 2011 and 2016.
For young people in Kamwokya and Magere, however, they had finally found a person that spoke the language they spoke; while for the eldery like Immaculate Zalwango that had doubted the half-buttoned shirt, spiky haired fella that was Bobi Wine in the early 2000s, he was now a politician that knew both worlds—one of indignation wrought by poverty and injustice; and another where new possibilities lay.
Bobi Wine's win was for both artistes and politicians a revelation: "today, artistes need to know that the authorities are keenly watching them, the government now knows how powerful art can be," said art commentator Edward Ssendikadiwa.
And he is right.
Following in Bobi Wine's footsteps, many Ugandan artistes have expressed interest in joining politics at different levels.
Joseph Mayanja alias Jose Chameleone, a contemporary and friend to Bobi Wine has already expressed interest in running for mayorship of the Ugandan capital, Kampala. While Eddy Yawe, Bobi Wine's elder brother, after two failed attempts, is set to make another run for a parliamentary seat.
Other artistes with political ambitions include Daniel Kazibwe alias Ragga Dee, Ronald Mayinja and Flavia Namulindwa, a dancer.
Today, the Democratic Party has officially welcomed local musicians @JChameleone and his brother Pius Mayanja aka @McPallaso, who recently announced their defection to the party #NTVNews pic.twitter.com/U2ADaJlJAQ

— NTV UGANDA (@ntvuganda) July 3, 2019
Music promoter Suudi Lukwago says that artistes should not be fooled by Bobi Wine's success since, "Bobi Wine did not simply wake up and [join] politics, he started way back using his music that carried his political aspirations."
Lukwago says that artistes are wrong to believe they will have the same luck like Bobi Wine and thus should save themselves from campaign loans and stick to what they do best, music.
Bobi Wine, however, seems to have now set his sights further than the Kyadondo East parliamentary seat. In an interview with CNN's Robyn Curnow in February, the 37 year-old legislator said he was "seriously considering" running against the incumbent president Yoweri Museveni in the 2021 presidential elections.
It remains to be seen how much Robert Kyagulanyi the politician will now influence Bobi Wine the musician, and vice versa, in the lead up to a possible presidential bid.