There is so much that an art piece can tell. The old English adage puts it better, 'A picture is worth a thousand words'.
Different art forms tell a story in a more detailed way than words can achieve. The picture opens up interpretation in a thousand different ways. It is like the beauty that comes with capturing a moment in a photography only for one to realize there were other details that were captioned in the process. Such is the magnificence of art.
It speaks with a clarity to each person. It communicates minute details that speech cannot articulate. It boldly reveals the information, that in writing would be concealed in figures of speech and craft that writers use to trick the mind to see what is in front of it.
Where words struggle to summon the emotion of the moment – a picture, painting or sculpture can lay it bare.  It is because of its outsize impact that Art has always been an outlet through which voices without a platform get heard.
This perhaps explains the response to a tragedy that befell many a Ugandan social media user on February 7, 2018; one that would eventually lead to a major reform of security operations in the country.
After months of headlines and stories about violent crime, a young woman Susan Magara went missing and was found dead 20 days later.
This was not the first time kidnaps had resulted in death. However no kidnap had caught the country's attention like Magara's. Before her kidnap Susan Magara was not a public figure.  She lived a quiet life going about her business like any other young lady her age. At 28, Susan worked with Bwendero Dairy Farm owned by her father John Magara. She was a member of the Rotaract Club of Bugolobi.
On the fateful day she was kidnapped Magara was waiting outside her gate in the evening.
The following day, news of her disappearance and efforts to find her dominated social media forums like Twitter. User Joanna Ibingira tweeted on her Twitter account (@ibingirajo) on February 8, 2018:
"This is Susan Magara! She's missing please call 0772055058. Rt till we find her. Thank you."
This tweet was accompanied with Magara's photo. It got 76 replies, 7,900 retweets and 1,500 likes. It was one of the most viral tweets on the subject.
This is Susan Magara! She's missing please call 0772055058
Rt till we find her. Thank you pic.twitter.com/reQwfeIEeY

— Joanna Ibingira (@IbingiraJo) February 8, 2018
Murder Most Foul
The search went on without much fruition till the morning of February 27, 2018. Susan Magara's mutilated body was found abandoned at Kitiko village between Kigo and Kajjansi along the Entebbe expressway.
Kidnapped woman Magara found dead. Susan a cashier with Bwendero Dairy Farm was kidnapped on February 7. Her body was discovered by residents today morning https://t.co/ccj5VvYxyG #crime #criminality #Uganda #kidnap pic.twitter.com/iU0L0UGazg

— The Observer (@observerug) February 27, 2018
In the details revealed later by the family, after the body had been dumped, a phone call had been made to the father on where to find the body. In security operations that followed, a number of suspects were arrested, including the prime suspect Patrick Kasaija aka Patrick Agaba who was extradited from South Africa in May 2019 after a lengthy diplomatic process between the governments of Uganda and South Africa.
Despite the two countries not having an extradition treaty, South African authorities would deport Patrick (Pato) Kasaija on May 15, 2019.
He alongside other suspects are currently undergoing trial in Ugandan courts for the alleged kidnap and murder of Susan Magara.
Revisiting the Magara case
One unique thing that happened with Magara's case was the rate at which many people got involved; those who knew her and those who did not. Many shared her loss with her family perhaps because, for once, here was someone like them who had lost a life.
However, there was more to the effect.
In the wake of Magara tragedy, Angelo Izama, a Ugandan writer and analyst commissioned a painting in her memory. It was painted by Ugandan visual artist Daniel Lagen who aptly named it "The Big Hearted Girl".
The Big Hearted Girl – Painting by Daniel Lagen| Commissioned by Angelo Izama| Susan Magara In Memoriam. Violence destroys lives. #Uganda pic.twitter.com/DKWn4MthMg

— Angelo Izama (@Opiaiya) March 25, 2018
In a tweet on March 25, 2018 with Angelo shared a picture of the painting for the first time, stating: 'In Memoriam. Violence destroys lives.' The painting today hangs at Chapter Four Uganda, a legal charity where Izama volunteers.
"There are few moments in our common history that our lives connect to an event such as the death of Magara. The manner in which she died reminded all of us of what we would not wish for our families or friends or for that matter any member of our community. The painting was intended to preserve this rare moment when we are all in agreement." Izama recalled when I asked about the inspiration behind the painting.
 A year after Magara's passing, Nicholas Opiyo (@nickopiyo), the Executive Director of Chapter Four Uganda tweeted:
"It hangs at our offices as a reminder to us all of the cases of unexplained/ investigated murders of women. It calls us to demand for justice for all women."
@chapter4uganda's Board Member @Opiaiya commissioned this @lagendan painting of abducted for ransom & murdered Susan Magara. It hangs at our offices as reminder to us all of the cases of unexplained/investigated murders of women. It calls us to demand for justice for all women. pic.twitter.com/NygY1k8WlK

— Nicholas Opiyo (@nickopiyo) February 27, 2019
The painting depicts Magara laughing heartedly, a signature she was known for, with her eyes closed and cheeks pulled back leaving a very wide laughter over her lips. Her right hand is suspended below the chin half revealing her Rotaract lapel.
Himself a Rotaractor, with the Rotaract club of Lake Victoria, Lagen's painting of Magara tells the story of Susan Magara. It humanizes her regardless of the manner in which she met her death. In the painting she is wrapped in beautiful celestial colours presumably in a heavenly place untouched by the violence of her story.
"It is important that the memory of Susan remains that of a daughter and friend for her family and for us. The painting is our victory over the circumstances of her death. We choose to remain positive and hopeful. It is a happy painting because any other kind would revictimize us and Magara as well"

– Angelo Izama
Magara's death served as a timely reminder of other young women whose lives had come to a tragic end in more or less similar  gruesome fashion starting in late 2016.
Hers was not an isolated case. In the previous year alone 21 other women had been killed in Katabi Town Council and Nansana Municipality, both in Wakiso District, between May 3 and September 3, 2017.
On September 7, 2017, the Ministry of Security  had issued a list of names of the murdered women before the Uganda Parliament as investigations into the murders continued.
The memorialization of Susan Magara through social media and the painting, therefore, other than isolate her case, made her part of the larger community of victims.
On June 30, 2018 a Women's March through the streets of Kampala added a voice to the demand for justice for the  42 women who had fallen victim to such unexplained murders since 2017. The marching activists called upon government to urgently bring to trial suspects accused of the murders and conclude investigations in some of the cases that remained unsolved.
For Joan Namazzi and the 41 women who's names were plastered across our headlines because they had been found dead. We remember you! #WomensMarchUG #WomenLivesMatterUG pic.twitter.com/TZvXvcSWx2

— SHANINE (@ShanineLA) June 30, 2018
Susan Magara's death and the reaction that followed also forced government to act through enacting new security measures.
The process of phone SIM card re-registration and verification of phone numbers, until then abandoned after complaints about the "inconvenience" caused by the exercise, was now restarted. All Ugandan phone owners would have to verify their phone numbers and the process would be linked to the new national Identity Cards issued two years earlier.
A temporary ban was also issued against selling new SIM cards after it was realised that Susan Magara's kidnappers had used 17 different SIM cards to contact her family. Those numbers could not be tracked.
So why was the Magara case different?
Over the months, many believe that it was not until the Susan Magara murder that Uganda's middle class realised the kidnaps and women murders could come as close to their doorsteps.
Stories may have been written about the 21 women from Entebbe but that was all; they were just women. Little known women, who probably did not have a Twitter account, a following and such a family name.
And their work was suspect. For instance, as the murder numbers kept pilling, it had been suggested by then police chief Kale Kayihura that they were prostitutes.
It was a narrative that he followed up with a meeting where he advised over 500 prostitutes in Entebbe to denounce the trade for rewarding jobs that would not render them vulnerable.
It was a matter that also found representation on the art scene in Uganda. In February 2018, a group of actors from Germany teamed up with their Ugandan counterparts for the Kampala art lab among whose productions was Shades, a play highlighting the different issues women face with a sub-theme titled "Entebbe Killings".
On the same stage later a poem, Bought, written and recited by actress Pamela Keryako, rubbed some members in the audience the wrong way when she seemed to affirm that victims of of the Entebbe killings, much as they were prostitutes, were also human.
"I am from Entebbe, and I would like to tell you that those women were not prostitutes, they were mothers, sisters and doing all sorts of jobs but not prostitutes," said Doreen Baingana, a Ugandan author that happened to be part of the audience.
Baingana's point of view was that the many people that turned up for the staging of the production, her inclusive, were potential victims that could still end up being termed prostitutes.
The production came to an end on February 25, two days before Susan Magara's body would be discovered along the Entebbe expressway.
Until then, the victims of the Entebbe and Nansana women murders had remained a changing figure–21 and counting; barely broken down and worse still, no suspects had been arraigned in court.
In an effort to see that these women do not continue being numbers, Netherlands-based Ugandan artist Christine Ayo started a project Voicing Entebbe with an aim of documenting these women and ensuring they are never forgotten.
The project kicked off with workshops on issues  like safety and violence against women, and later a fundraising to build a monument in remembrance of these women.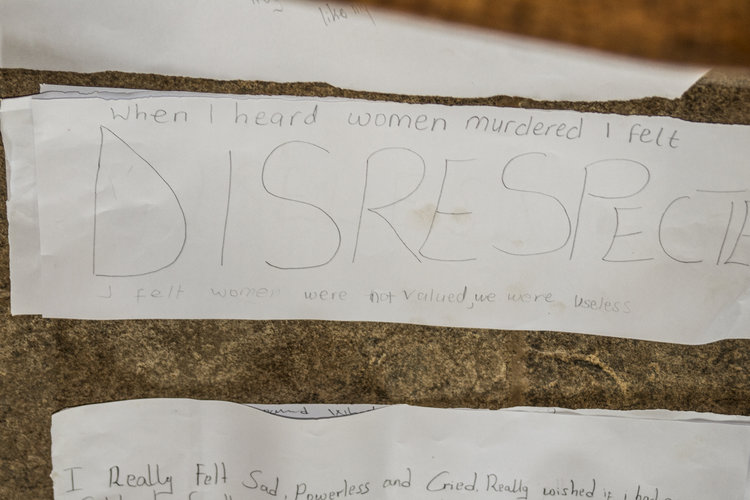 A poem, When I heard, condensing the trauma of the murders was one of the outcomes from the workshop sessions. According to Ife Piankhi, one of the workshop facilitators, the poem was meant to invoke memories of what women thought the first time they heard about the murders of women in Entebbe and other parts of Wakiso.
Through various artistic methods, Ayo has since invited women from Entebbe to start conversations about these murders and how differently women interpreted the killings.
In an ongoing project, her most intimate artistic intervention to date, Ayo has created a site specific installation made of 25 pre-owned photo frames, formerly won hair extensions and tie wraps.
"This installation takes it back to where it all began, Rose Nakimuli, my first encounter with unresolved murders, she was a hair dresser," Ayo says on the project website.
"I used this concept of memory and loss in reference to the stories of the women that are unknown to us but still important to the households in which they belong," she later concludes.
While attempts like Ayo's may pale in comparison to the response by the rest of the country to cases like that of Susan Magara, they serve an important purpose: while the senseless murders may have robbed their victims of their dignity, our choice to memorialize them reclaims it.
List of women killed in Nansana municipality and surrounding areas**
On 3rd May 2017, a body of unidentified female adult was found at Nansana west zone. This body has remained unclaimed to date.
On the 28th May 2017, a body of a female identified as Nampijja Juliet alias Jalia Nantabazi was found behind Kenjoy Supermarket in Nansana West I.
On 28th May 2017, a body of unidentified female adult was found at Nansana East 1 zone. This body has remained unclaimed to date.
On 31st May 2017, two bodies of female adults, one identified as that of Nansubuga Patricia alias Proscovia and another unidentified were found near Kenjoy Supermarket in Nansana West I. The body of the unidentified woman has not been claimed to date.
On 5th July 2017, a body of a female adult identified as Birungi Maria was found at Nansana East II zone.
On the 11th July 2017, a body of a female adult identified as Nakazibwe Josephine was found in her rented room at Ochieng Zone in Nansana municipality.
On 16th July 2017, a body of unidentified female adult was found in a trench at Nansana East zone Bujagali.
On 17th July 2017, a female adult body identified as that of Nakacwa Teddy was found lying in her rented room in Nansana West II zone.
On 25th July 2017, a female adult body identified as that of Kyandali Juliet, a business woman in Ganda Nansana, was found in her home.
Katabi Town Council murders
On 7th June 2017, a female adult body identified as that of Nansubuga Gorreti was found along Kasenyi road in Abayita Ababiri.
On 26th June 2017, a female adult body identified as that of Komugisha Faith alias Jamila was found at Katinda near Ssese Gateway beach.
On 13th July 2017, a female adult body identified as that of Dona Zakanya alias Kasowole Aisha was found at Abayita Ababiri.
On 21st July 2017, a body of a female adult identified as that of Norah Wanyama was found at Nkumba Central Zone.
On 24th July 2017, a body of a female adult identified as that of Rose Nakimuli was found behind Keba Inn near Jantos Bar at Kitala, a few metres from her house.
On 11th August 2017, a body of a female adult identified as that of Nakajjo Sarah was found behind Faith International nursery and primary school along Kasenyi road approximately 200 metres from a one Bwanika Jones' shrine.
On 14th August 2017, a body of a female adult identified as that of Nakasinde Aisha was found at Kasenyi landing site.
On 27th August 2017, a body of unidentified female adult was found at Kitala village along Entebbe road.
On 28th August 2017, a body of a female adult identified as that of Nalule Jalia was recovered from Nkumba Central in Kayirira forest reserve.
On 4th September 2017, a body of a female adult identified as that of Nabilanda Mary alias Maria was found at Nyanama Trading Centre in Bunamwaya near a washing bay.
Elsewhere
On 15th August 2017, a body of a female adult identified as that of Zawedde Regina was found in Bulaga town.
On 16th August 2017, a body of a female adult identified as that of Namuwonge Jennifer was found in Bwaise, Kawempe.
*This list was first published by the Observer Newspaper on September 7, 2017.