Ideas often create a faculty of understanding which unites individuals to pursue common interests. Without exception, this is what defined the recently concluded YouthConnekt Africa Summit that took place from 19-21 July at the Kigali Convention Centre, Rwanda.
YouthConnekt is a hub under the Ministry of Youth and ICT, Rwanda created to inspire, connect and enable the youth to transform their lives. The platform connects young people to role models, resources, knowledge and skills, internships and employment opportunities, enabling them to participate in shaping a better future for themselves, Rwanda and the World.
At the inaugural YouthConnekt Africa summit, Africa – thanks to its youthful population – re-emerged as the sparkling prom queen that everyone wants to date.  The continent's vast opportunities, entrepreneurial spirit and a youthful workforce were courted by up to $100 million in investment pledges by continental bodies like the Africa Development Bank, UNCTAD, and businessmen Jack Ma and Akon.
In his opening remarks as guest speaker at the summit President Paul Kagame reckoned that, indeed Africa has a chance with its young people at the forefront of driving development through innovation and entrepreneurship.
President Kagame's message was reiterated by other high level dignitaries and global thought leaders that included Jack Ma, the founder and CEO of e-commerce giant Alibaba, Dr. Mukhisa Kituyi, the  UNCTAD Secretary General and Abdoulaye Mar Diye, the UNDP Assistant Administrator and Director of the Regional Bureau for Africa. Over 3,000 delegates, entrepreneurs and innovators from across Africa were also in attendance.
Entrepreneurship Agenda wins Big
Chinese Billionaire and Alibaba founder, Jack Ma announced four groundbreaking projects at the summit which are anticipated to cost over $100m in the long term.
Under a mentorship project, 200 young African entrepreneurs were invited to Alibaba's headquarters in Hangzhou, China to learn about e-commerce, Artificial Intelligence (AI) and the Internet of Things (IoT). The Alibaba founder also announced an environmental conservation project that is expected to promote and support environmental conservation efforts in Africa, especially protecting elephants and other endangered animals.
"We will give a prize to 50 rangers for the next ten years to thank them for their tireless efforts in conservation," Ma said.
In his last pledge, Jack Ma reiterated his confidence in the youth whom he said, had huge potential to boost emerging markets to develop Africa. "They can even create Africa's Alibaba", he added. A $10 million entrepreneurship fund under his foundation will support young entrepreneurs in Africa. These are anticipated to create over 54 million jobs for young Africans by 2020.
"These model citizens will help to share knowledge and set up start up businesses when they come back home", Jack Ma said.
In his closing remarks, Ma urged African leaders to do cross border trade with each other. He added that artificial boundaries create complications on border relations.
"Populism is not consistent with what's necessary for this continent. Political niceness and pleasantry is muddled by hypocrisy of our leaders. Take for example the common market protocol which is just on paper and yet African countries still have artificial boundaries for cross border trade. Diplomacy should be a service to Africa"

– Dr. Mukhisa Kituyi.
Akon speaks out on Re-branding Africa
Africa needs to tell its story from its own diverse cultural perspectives. Most importantly we need to restore our dignity and reputation which is still muddled by colonial subjugation. Nowhere else was consensus unanimous on the matter than at the YouthConnekt summit.
Delivering his remarks on the second day of YouthConnekt Senegalese-American singer and businessman Akon said, "We need to change these negative perceptions about Africa".
"How then do we narrate our story and be able to translate our successes to the rest of the world," Akon asked the audience.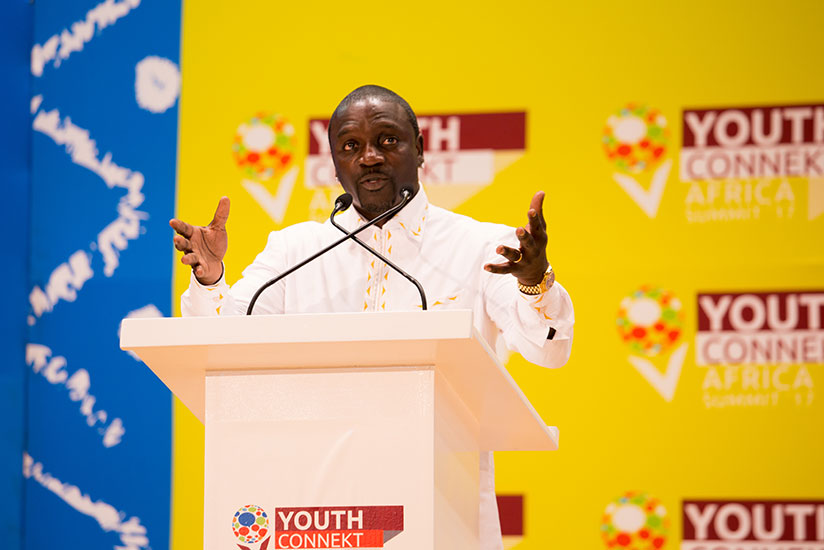 "Africans have generally failed themselves. Inevitably and subsequently the young ones have been failed. They don't have the responsibility expected of them to drive change. Young people must assume this responsibility. Present a challenge that has a meaning to be productive" – H.E Paul Kagame.
Drawing on his experience in the music industry Akon emphasized the need for Africa to re-brand its content so its image can change the global outlook for attracting investments. He added that an image is a huge accountability of who we are as Africans.
"Africa is not just one country but a sovereign entity of 54 nations. It's a continent bound by community, humane interactions and boundless opportunities beyond the distorted stereotyped images of the western media…"  

– Akon