It is a chilly April Friday evening when I make it to the rooftop at Sky Lounge – a hangout popular with middle class revelers in Kampala. Its view slightly obstructed by the imposing Acacia Mall in Kisementi, the Sky lounge rooftop is host to the season finale of "A ka Dope," a contemporary arts show that has Kampala's young and urbane in a frenzy lately. The turn up is good and one has to crane their neck to see what is happening on stage. Walking around the venue is akin to walking on egg shells; there are people standing everywhere! But the atmosphere is a genial one – "dopeness" if to borrow an expression familiar with most in attendance here.

"I wanted to target people who go out and I thought in Uganda [going out] was limited to the bar or the club," Kemiyondo tells me a week later when we meet for this interview. We meet at her favourite hangout, which also sometimes doubles as her workstation, Kardamom and Koffee in the Kololo suburb of Kampala.
Born in Uganda, to Ugandan parents, but raised in Swaziland and much later on attending college in the U.S, there is an air of artistry even when she talks, from the occasional self-deprecating humour to a few tips here and there on gastronomy.
Kemiyondo Coutinho, popularly known to the Ugandan online community as "Kemi", is a Ugandan artist, although she prefers to be called an "art-prenuer, and curator of "A ka Dope".
A ka Dope – the beginning
Kemi attributes the idea behind A ka Dope to a chance meeting with Ugandan artist Mo Roots at a wedding in Kampala in 2014. "My first impression was that she had been flown in for the wedding…" She had not realized that there was an underlying artiste community that nobody knew about. Soon, she had to leave the country again for a performance in Greece, but an idea had stuck in her mind already: A ka Dope was going to be her first project in Uganda as a small way to give back to these kinds of artistes.

"I don't know why, because I am not even a musician, but I just knew this was going to be my first project," she says.

In October 2016, with no money at all, she approached sponsors for the first show for which she secured the venue for free. She asked the artistes to perform for free too. Luckily enough, people turned up. She used some of the gate collections to prepare for the next show.

"What I was providing them with was a platform – a rehearsal, band and venue – which seems like very little, but if you are an artiste, these three things are key."

From then on, the proceeds from one show are used to organize the next one. Interest in A ka Dope grew. After the fourth show, it was moved to the Sky Lounge rooftop which provided a bigger venue.

Kemi attributes this growth to the show's uniqueness. "Every show is very different," she explains. "It is always a different experience from one A ka Dope to the next". 

The Future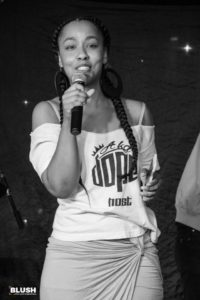 Although she remains guarded about the prospects of the show in future, she is optimistic the show will continue to attract more attendees and artists. "We'll see…I just have to get through to the next A ka Dope for now." She wants to hold future shows in her western Uganda hometown of Fort Portal and habours dreams of extending it to Kigali in Rwanda too.
In the meantime, she is on to other projects. "I love katogo and that show is in my work…"
She tells me about an upcoming film screening Sacred Waters and a video she is directing. Mention anything artsy and her name will pop up somewhere. "I think [the Arts] is a calling…I don't make enough money for it to not be a calling," she quips.
For now, she is happy to follow her true calling as an artist, performer, dancer, music show curator… in short, her art-prenuership.