Africa is faced with a prevalent challenge of a growing population in the midst of other pressing challenges of the 21st century. The significant strides made in the health sector since the 1990s have seen improvements in life expectancy, rising to an average 60 years, and reduction in infant mortality. This has created what many economists refer to as the "Africa youth bulge."
Youth bulge is often understood as that stage when a large share of a nation's population is comprised of children and young adults. Africa has the youngest population in the whole world. In terms of median age– at 20 years–the youngest countries on the planet are located in Africa.
In 2017, more than 60% of African population was under the age of 30. According to United Nations statistics, in 2015, 226 million youth aged 15-24 lived in Africa, accounting for 19% of the global youth population. By 2030, it is projected that the number of youth in Africa will have increased by 42%.  However, this young population is faced with a lot of challenges, 60% of them are unemployed and by 2035, the number of Africans in the working age will exceed that of the rest of the world combined.
This youth bulge has been referred to as the continent's ticking time bomb. To address this challenge, the African Union declared 2017 as the year of the youth under the theme, "Harnessing Demographic Dividend through investments in Youth." This was an acknowledgement of the sizeable youth demographic and the youth's important role in achieving sustainable development. From the continental level to regional blocs and nation states, policies concerning the youth are vital for the achievement of African Union agenda 2063 and UN sustainable development goals.
Leaders' rhetoric, actions
The continent will have to move fast and create jobs if Africa is to reap dividends of this youth bulge. The IMF, for instance, says the Uganda government must create 600,000 jobs per year for youth who enter labour market. There is consensus among Africa's heads of state that economic and political integration is where Africa's future lies. Uganda's president, Yoweri Museveni, has often argued that integration will be the continent's insurance from poverty and insecurity.
During a public lecture at Kenyatta University in March, Museveni argued that one of the stimuli for prosperity is "a big market that would encourage the producers of goods and services to produce more and more." And by producing more, "the entrepreneurs earn more and more money, create more jobs and expand the tax-base of the country, which helps in service delivery."
Like China and India which first exploited internal markets before opening up to the outside world, Museveni says an integrated Africa creates a large market that Africans can exploit. The Uganda leader further notes that a big market created through integration attracts investments and reciprocal trade arrangements.
"There is no logic in worshiping the existing 53 African States.  They are inter–tribal and that is good. If Uganda is better than the 'republic' of Ankole [defunct kingdom of western Uganda], why shouldn't East Africa be even better?" Museveni queried.
Museveni argues that African leaders will be judged harshly in the future if they fail to achieve political and economic integration, a vital requirement for the survival of Africans as a free people. "The post-independence African leaders and the elite are in danger of being like the tribal chiefs who betrayed Africa between 1500 and 1900 by failing to unite our people for their own salvation," he said during the well-attended lecture at Kenyatta University.
The East African community has tasked Museveni to restart efforts to speed up the EAC regional political federation, an issue which member states have only paid lip service for decades.
Rwanda's president Paul Kagame has initiated policies which favor youths. In October 2018, Kagame reshuffled cabinet, appointing many young leaders into ministerial positions. Kagame is also famous for appointing youthful parastatal chief executives, most of whom are women. He has chaired several African youth gatherings in the past two years and has been at the forefront of championing for an African future led by the youth.
Kagame served as the chairperson of African Union from January 2018 to January 2019.
During his tenure, he helped push for the African continental free trade area [AfCTA] which was signed by 49 of 55 member states of African Union. If ratified, the agreement will open boundless opportunities for African youths involved in agro-business and it will ease cross border trade. This was complimented with the creation of a unified air transport market across Africa that will open up skies for airlines to operate freely from country to country.
When youth leaders from the member states of East African Community [EAC] met in November last year in Arusha, Tanzania for the 2nd East African Youth Leadership Forum [YOULEAD], they called for a more friendly environment through government policies and strategies that empower the youth. They also argued for economic inclusion beyond borders of their member states. The conference's director, Ivan Atuyame, argued for the establishment of a youth representative at every bloc's level including [EALA] which will also put youths' ideas at the forefront in policy planning and implementation. The forum implements provisions of the 2016 EAC Youth Policy, priority 14, which mandates the EAC Secretariat to build networks and partnerships to institute an annual Youth Leaders' Forum with the EAC Secretary General.
Africa's youngest head of state, Ahmed Abiy of Ethiopia has ignited waves of transformation in the region. The 42 year-old Prime Minister assumed office in April 2018. With support of the youth, he initiated policies to address the political divide in his country by releasing political prisoners and lifting the state of emergency. For the first time in more than 20 years, he put to end the border conflict between Ethiopia and Eritrea. He also went ahead to rekindle the peace deal between former South Sudanese Vice President Riek Machar and his nemesis President Salva Kiir. In doing this, he realizes a peaceful continent is a key driver of investment, transformation and development.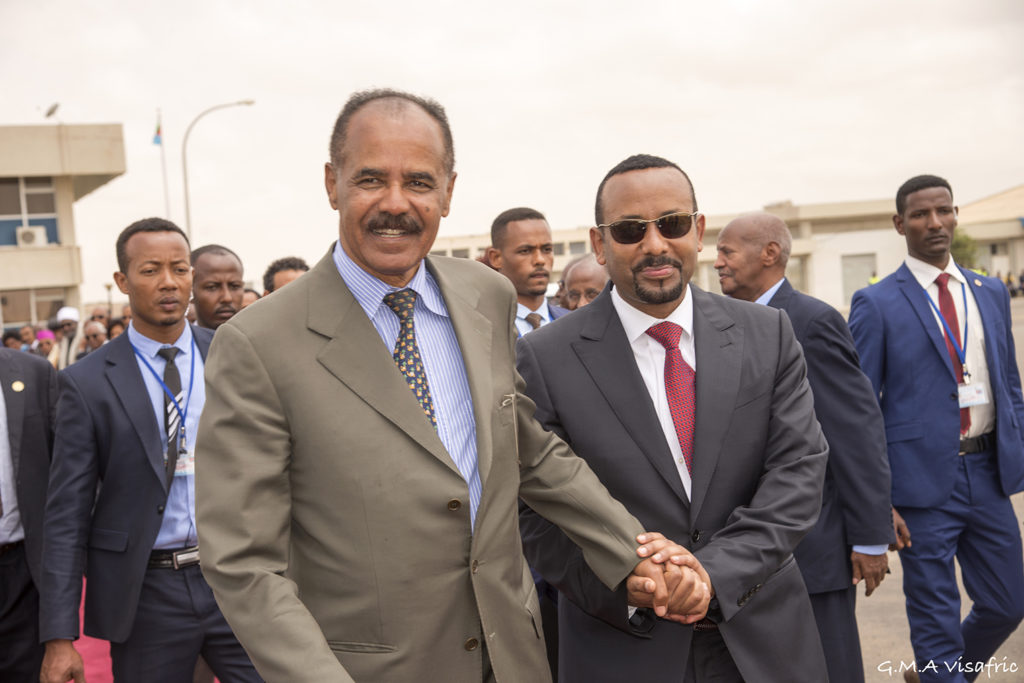 East African youth are feeling the benefits of the drive towards integration. But equally they feel a lot more can be achieved.
"Uganda is like my home, I can come in easily and go. Even many people can listen to Kiswahili. I am home" says Kibet Daniel, a Kenyan student at Makerere University when asked about integration. He added, "with exception of adding Ke (meaning Kenyan) on the registration slip to show my country's code, everything is normal. I pay the same amount of money at University like others."
The East African Community introduced a uniform fees structure, drastically reducing the cost of attending university in a neighbouring country. This policy has been effected in Uganda. For instance, before implementation of this policy during the 2014/15 academic year, Ugandan students would pay UGX 1.47M fees for Bachelors of Medicine and Surgery while foreign students would pay UGX 2.46M for the same course. This means EAC students gained a discount of almost one million after implementation of uniform fees policy.
Rwanda and Uganda enjoyed seamless trade and movement of people, until late February when Rwanda closed the Gatuna border. The diplomatic relationship between Uganda and Rwanda bubbled thereafter, as Rwanda accused Uganda of harbouring dissidents planning to destabilize Kagame's government and arresting its citizens living in Uganda. This has equally affected movement of students.
A student who prefers anonymity, says it's now difficult to be a Rwandan in Uganda. "I have been travelling for functions, family reunions and everything, but now I can't even risk. I am suspicious in Rwandese eyes."
But Nagaba Abel, a Ugandan student at Ndejje University says, "I haven't felt the benefits of integration personally. Its like all the resolutions get stuck at implementation level. And all we see are neighbouring countries eyeing each other with suspicion. This has to stop for the benefit of all. The world is moving fast."
"My father used to tell me that crossing the  border between Tanzania and Uganda wasn't easy during the 1990s. But now I can just get in," said Kazungu Katana, a Tanzanian Student at Makerere University, while another Tanzanian student at the university, Masele David had this to say about his stay in the country.
"Everything is okay. The problem I am rather faced with is on using my home currency in local shops here and even the language is a problem. Few people speak Kiswahili in Uganda".
Listening to the students' experience one thing is clear: the East African Community's policies for free movement of persons, harmonization of higher education, among others are beginning to bear fruit. Danger however still lurks in the dark of strained relationships among neighbours like Rwanda and Uganda. The former is one of the leading contributors of foreign students to the latter's education institutions owing to strong historical ties between the two countries.