Increased pollution is threatening the sustainable use of Lake Victoria, a vital resource for the East African countries sharing the fresh lake water, and to the peoples in its catchment.
When the bearded English explorer John Speke stumbled upon Lake Victoria in the last half of the 19th Century, its long shoreline was pristine only broken by small, shallow bays, inlets, and wetlands. Today, the lake moderates the region's climate yet under considerable pressure from a variety of interlinked human activities causing enormous environmental changes.
The lake is a source of life for people who live on its shore, says Mutaasa Humphrey, a resident of Jinja's Masese landing site. For generations, blessed with the largest freshwater lake in the world, only second to North America's Lake Superior, people living in the Victoria basin have celebrated good climatic conditions, fertile soils and a natural source for fish and water.
"I grew up in Walukuba Masese in Jinja district where water from the lake was our source of life. It is our source of water for drinking and home consumption. It is also our only source of Tilapia [fish]," says Mr. Mutaasa.
"Fetching water nearer to the banks of the lake was quicker because it was shallow and the water was safe and clean. So at that tender age, we would take the jerry-cans and fetch without any cases of trouble. It is very different now because the clean water is so far into the lake and it is deep and risky."
Water is at the heart of human existence and where its plentiful, ecosystems and people flourish. This is what the Lake Victoria has provided in abundance, albeit under immense threat.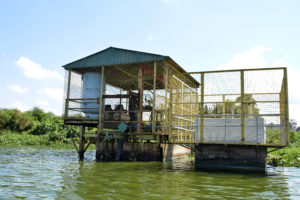 The lake fuels economies of the three East African countries–Kenya, Tanzania, and Uganda–that share its waters, as well as neighbours like Rwanda and Burundi. Over 35 million people living in the Lake Victoria basin and depend on her fresh waters according to United Nations Environmental Programme (UNEP). The international water body is also the source of the great River Nile which provides water for hydropower generation for the five East African countries.
Pollution of the Lake
The perils of Africa's largest lake are more than environmental. . The vast, calm waters of the lake belie the numerous challenges facing the lake.
"Balance the boat," a phrase that has come into common usage is better put to use when making arguments for the need to mind about Lake Victoria's life. The phrase was coined following the November 2018 tragic incident when a Ugandan vessel MV Templar capsized a short distance from the shore off Mutima Beach in Mukono district, and tens of revelers drowned.
Lake Victoria is used for repository purposes for both treated and untreated wastes from various activities in the basin. The causes of rising pollution levels in the Lake are as many as they are diverse and each of the three East African nations is culpable.  Pollutants range from industrial wastes, agrochemicals, solid waste–plastics, sewage effluent, and atmospheric deposition, to land runoffs.
Human activities also threaten the lake, causing fish die-offs, eutrophication-excessive richness of nutrients in a lake, reduction of water quality, and occurrence of low oxygen levels.  The excessive nutrient input is mainly from atmospheric deposition and land runoff, together accounting for approximately 90% of phosphorous and 94% of nitrogen input into the lake.
Dr. Robinson Odong, a lecturer at Makerere University, Department of Zoology, Entomology and Fisheries Sciences, says in a yet to be published scientific study on Lake Victoria pollution, that researchers have found chemical compounds in the lake have lethal effects on fish health.
"Our study findings show, in populated areas [around the lake], low egg count in female fish, poor development of reproductive cells –both male and female, inter sex, and liver damage of the fish," Dr. Odong says.
According to Dr. Odong, the fish reproductive abnormalities are caused by xenoestrogens, chemical compounds that mimic oestrogen, a reproductive hormone of the fish, and cause reproductive disorders. Xenoestrogens are introduced into the environment by industrial, agricultural and chemical companies and consumers. Such compounds have tremendously reduced fish quantities in the lake.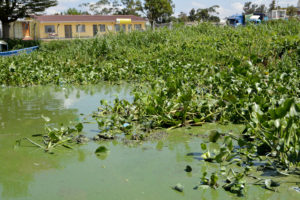 In addition to the adverse agrochemical effects, the sewer system in Kampala city serves only a small fraction of the city population. Guesthouses, slum dwellings, and industries are discharging untreated wastewater into Nakivubo channel, which flows into Murchison Bay, contributing to a huge pollution load and depleting oxygen levels in the lake. Dissolved Oxygen levels of less than 2 mg/liter have been recorded in Murchison Bay, far below the 4 mg/liter needed for most fish species' survival, according to a study by Air Water Earth (AWE), a Uganda-based environment and civil engineering consulting firm.
Ironically, Murchison Bay, a recipient area to Nakivubo channel untreated wastewater, is also home to water treatment plants that supply Kampala city and its precincts. Murchison Bay is partially covered in a green floating blanket of algae that is as viscous as wall paint. Algal blooms clog water treatment plants, deoxygenate lake water causing fish die-offs and also cause a skin condition known as "swimmers itch". Uganda's National Water & Sewerage Corporation (NWSC) is experiencing rising treatment costs because lake water is dirtier and increasingly expensive to treat to potable quality.
Various studies have also shown the presence of undesirable chemical substances in the water, sediment, and fish from the lake.  The chemicals include chromium, lead, copper, and zinc among others. Even chemical compounds banned from the Ugandan market, like, dichloro-diphenyl-trichloroethane (DDT) are present in the lake water. These have affected the lake's ecosystem.
The intermittent plastic waste poor disposal is another grave challenge the lake faces. Uganda's environment agency, National Environmental Management Agency (NEMA), has noted an increase in plastic waste disposal in the recent past.  It is estimated that 600 tons of plastic are disposed of in Uganda daily.
Kampala city alone accounts for the vast chunk of plastic waste. Solid waste generation per person is estimated to be 0.2 metric tons per year on average, according to a study by Dr. Peter Ngategize. With 17.5% of Uganda's total population urban dwellers, it means that approximately 1,598,742.2 metric tons of solid waste is generated in urban areas per year. Of this, only 41% of the solid waste generated is disposed of properly according to UNDP. The remaining 51% is left uncollected thereby ending up dumped in drainage channels, natural water courses, manholes, underdeveloped plots and roadsides among other unfit places, according to NEMA.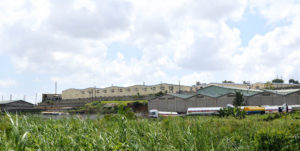 Saving the Lake
Efforts to save Lake Victoria in the past decade have been buttressed by World Bank through the Lake Victoria Environment Management Project (LVEMP). The project is aimed at "rehabilitation of the lake ecosystem for the benefit of the people who live in the catchment, the national economies of which they are a part, and the global community."
LVEMP is an East African Community (EAC) initiative coordinated by the Lake Victoria Basin Commission Secretariat and implemented by five EAC partner states. Phase II of this project ended in March this year and partner states are preparing for Phase III.
Mr. Sowedi Awagudde, the Uganda LVEMP coordinator at the Ministry of Water and Environment says the project has been critical in scaling down pollution levels of the lake. "The project has been able to reduce pollution of the lake by about 25%. We need to consolidate the gains of the LVEMP but also be able to tackle new sources of pollution coming up as a result of population growth," Sowedi says.
Phase III of LVEMP, Sowedi says, will "concentrate on the more critical pollution sources to the lake like diffuse pollution, and land degradation, but also focus on catchment management."
Kampala Capital City Authority (KCCA) and the adjacent towns of Mukono and Entebbe were key beneficiaries of LVEMP II. KCCA received 6 compact 20-tone garbage trucks, 6 tipper trucks and excavators. These equipment, KCCA Executive Director, Eng. Andrew Kitaka says have been used for "maintenance of drains, majorly Nakivubo Channel, the main garbage carrier to Lake Victoria."
"This equipment has helped us very much in maintaining our drains through removal of solid wastes, removal of silt and also collecting garbage from many parts of the city," Kitaka says. "With this equipment, we can collect 20 percent of garbage in Kampala. That is significant. We more trucks, our capacity will be enhanced tremendously."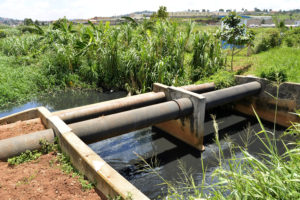 The Director of Water Resources at Ministry of Water and Environment, Florence Adong says KCCA was a key partner in implementation of LVEMP II. "As the entity in charge of the most populous city in the Lake Victoria basin, KCCA has been one of our key partners," she says. "KCCA plays an important role by collecting solid wastes and maintaining drainage channels, thereby reducing pollution of municipal wastes/runoffs that end up in Lake Victoria."
LVEMP III, she says will be scaled up to cover other towns in the Lake Victoria basin including; Kira, Masaka, Mbarara, Jinja and Busia.
But Henry Bazira, the Executive Director of Kampala based Water Governance Institute (WGI) says pollution is visible in East Africa countries that border Lake Victoria despite World Bank investment. "I don't know why people are saying pollution has been reducing by 25 percent. Where is the evidence? We are not seeing the impact of LVEMP I and II in reducing pollution," he argues.
Bazira says LVEMP III should focus on catchment management because lakes are being polluted by water runoffs from the catchment areas. "Our wetlands which would be cleaning water are being eroded. This has caused us to pay extremely high costs to clean Lake Victoria water that is supplied to Kampala resident," he says.