The pandemic era has created an explosion of art and entertainment and Ugandan creatives are not letting the chance pass by at a pivotal time. With a Ugandan film making its debut on streaming giant Netflix and new musicians breaking through in different genres, the country looks like it has a lot to learn from its arts scene.
With this in mind, the LéO Africa Institute put together a selection of some of the brightest minds on the arts circuit for a discussion themed 'How Arts and Culture Build Resilience in our Lives and Foster Imagined Communities' on the first day of the Annual Leaders Gathering.
Hosted by Innocent Acan, a doctor and a writer, the panel included Lugaflow king GNL Zamba, Usama Mukwaya, a screenwriter and founder of O Studios Entertainment; Rodney Kiggundu, a design artist and Founder of Streetlights Uganda; Allan Manzi, Founder of Manzi Media. With the exception of GNL, the rest are all Young and Emerging Leaders Project (YELP) Fellows, the Institute's flagship leadership fellowship.
Speaking on the panel, GNL noted the most important thing for Africans is to always define who they are stressing the ever present risk of being swayed by whatever wind. GNL famed for his groundbreaking Lugaflow album KoiKoi in 2009 cited the essence of ideas like okwevuga (Runyankore for spoken word) and Ebitontome (Luganda for poems) that have been vital in forging authentic African and Ugandan identities. "The industry is not easy to penetrate," he said.
The hip-hop artiste said there is a need to harness the knowledge from the "fireplace university" where grandmothers pass on nuggets of wisdom. "Here is where you build bridges between two generations."
Usama picking the cue from GNL, said productions like Kyaddala (It is Real) whose making he was involved in are playing a crucial part in fostering these identities and imagining communities. Kyaddala is a drama series focused on the sexual reproductive health of young adults. "This film addresses conversations parents cannot have with their children," he noted.
Inadequate sex education in Ugandan schools and homes is often cited as a reason for the prevalence of sexual abuse in the country. Usama and company are banking on the arts to tamp down this scourge.
Sanyu and Rehema
Usama also highlighted Sanyu, a Ugandan drama series that has taken the television industry by storm, for what it has done for the film making community. "Sanyu employs 60 filmmakers; that is job security and it empowers us. It also strengthens communities."
Sanyu is about a rural teenage girl that leaves her family to work as a maid for a wealthy family; the Kirundas. After she falls in love with the son of her employers, her life is plagued by intrigue, subterfuge and edge-of-the-seat entertainment that has given Ugandan story telling a new edge. The show airs on Pearl Magic Prime Channel 148 on DStv.
Drawing on the same issue of authenticity, Allan Manzi, another filmmaker shared his experience with creating Rehema, a film about a Muslim girl in Kawempe, a suburb in Kampala. "I made it intentionally, the characters are very much like the people. Rehema is raised in Kawempe and the entire film is in Luganda." Manzi said, "There is no partial English." He added that the film's originality helps to nurture empathy because this is about a "Muslim girl and what she goes through."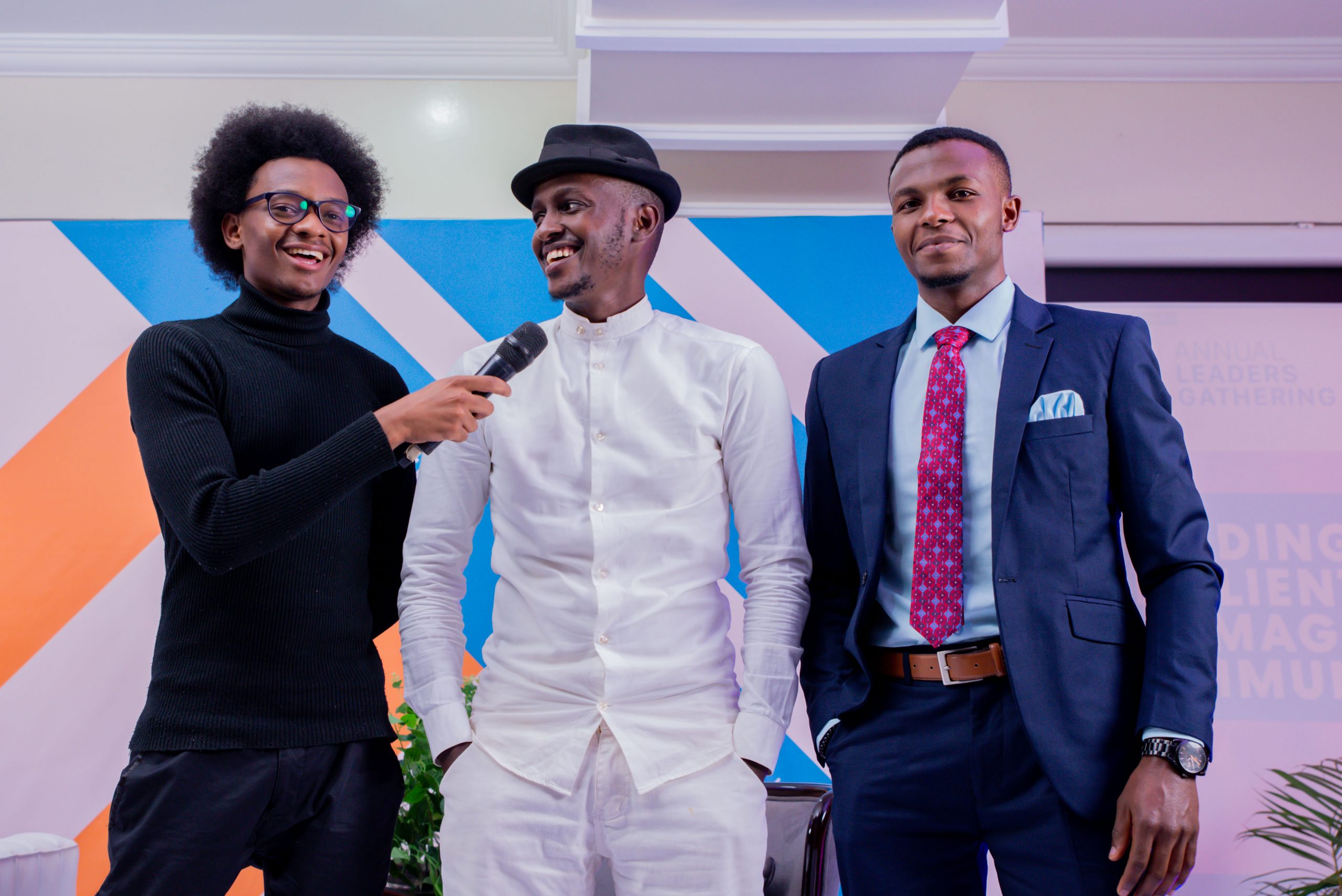 Acan the host hinted on the idea of "joyful filmmaking" so as not to fall into the typecasting trap that the Western film industry has set for African countries.
The Annual Leaders Gathering event was graced by artistes like Deo Munyakazi, a Rwandan artiste who plays the Inanga and Ugandan artistes: Lamu, who sings in Swahili, Luganda, and English; rapper Lagum and Aka Dope band.
GNL who sparked a Lugaflow sensation in Uganda with songs like Story ya Luka, Mr Right had a parting shot for creatives to ponder on. "I am no longer interested in the resilience. I want to dwell on the imagination. He added: "Instead of surviving, I want to thrive."